The Sidecar of Your Dreams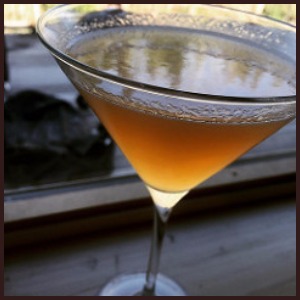 Dana Moos
March 2, 2017
This week has been a bit of a frenzy, with Cognac on all of our minds as we welcomed Loric Gouban, brand ambassador for A.E. Dor Cognac. We've kept M. Gouban very busy, with a late night here, and no chance for rest here. We are however, making time for cocktails, and here is a twist on an old classic from WWI; the sidecar! This is a very simple cocktail, you need not spend an afternoon infusing a simple syrup with some exotic herb nor tracking down some one-off hipster bitter whose unused remains will spend eternity taking up space in your liquor cabinet.
The ratios for a classic sidecar are 3:2:2. Cognac, lemon juice and orange liquor (such as grand mariner or cointreau).
Here is the classic recipe:
1.5 ounces A.E. DOr Cognac (Use VSOP if you really love yourself)
1 ounce lemon juice
1 ounce orange liquor
Orange peel for garnish
Shake the first 3 ingredients in a cocktail shaker filled with ice.
Shake well.
Strain into a chilled martini glass (sugared rim optional).
Garnish with the orange peel.
Now that you are an expert, you change change things up a little. Consider adding a bottle of A.E. Dor Pineau des Charentes to your liquor collection. We promise it will not gather dust because it is delicious on it's own, just with a little ice. Pineau des Charentes is one of a host of French fortified wines in the Vin de Liquor category. It tastes of Cognac, but also has the fruity punch of grape juice. And you can use it to make a fabulous version of a sidecar, utilizing the same proportions as above.
1.5 Ounces A.E. Dor Cognac
1 ounce Fresh lemon juice
1/2 ounce A.E. Dor Pineau des Charentes Blanc
1/2 ounce orange liquor
Orange peel for garnish
Follow the instructions above.