Eulalie Pinot Noir - A Michael Corso Selections Exclusive - Minervois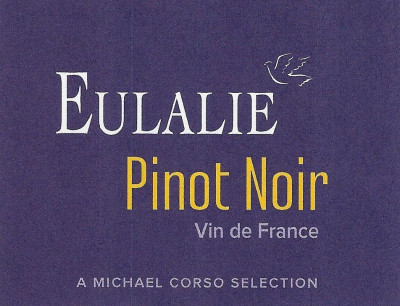 The quest for high quality, affordable Pinot Noir can lead one down many paths, most of them disappointing in the end. While discussing this very subject over dinner with Laurent Coustal, owner and winemaker of Chateau Ste. Eulalie in Minervois, Laurent leapt up from the table, his face beaming. "Let me show you something," he exclaimed, as he bounded out of the room.
Tasting the unlabeled mystery wine that Laurent brought back from the chais, we were soon beaming, too. Distinctly Pinot Noir. Such bright fruit. No hard edges. "This is from a neighbor's vines. We make the wine together and I bottle it for him. The vineyard is on a remote hillside that the locals call 'L'Enfer, 'French for 'Hell', because the terrain is so rugged." It seemed that only by the grace of Ste. Eulalie herself, could a wine so fine and elegant have come from such an unforgiving place. We bought the entire production on the spot.
We are pleased to introduce the Eulalie Pinot Noir! Although classified as Vin de France, the wine is grown and produced in limited quantities in the Minervois region of the Languedoc, and bottled at Château-Sainte-Eulalie.