We Sprang Into The Loire!!!!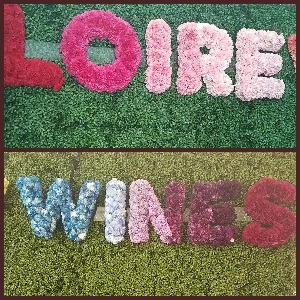 April 14, 2017
This week was busy as we hit two different cities (New York City, and our home base of Chicago) in order to participate in the annual "Spring Into Loire" Tasting put on by the Loire Valley Wine Bureau and Sopexa. This is a nice opportunity for us to connect with our customers: consumers, buyers, retailers, and restaurateurs. Because this is also the time for many new releases, it also gave us a nice opportunity to re-taste some of the wines. We were kept busy throughout- the tasters were awfully thirsty!! Here is a quick and dirty low-down of what we showed:
2016 Henri Poiron/Domaine des Quatre Routes Muscadet Sèvre et Maine
Fresh off the boat and newly departed from its lees, this was a delightfully primary tasting experience with bright citrus notes that verged into an almost candied state, with pronounced verve and good length. File under: Buy several cases for home consumption stat!
2015 Gautier/Domaine de la Racauderie Vouvray Sec
Punchy and bone dry, with granny smith apples and clean, lemon notes. It's rather prim label belies the goodness inside.
NV Gautier/Domaine de la Racauderie Crémant de Loire Touraine Rosé
This méthode champenoise sparkler made from Grolleau was a hit, and no-one believed us when we told them it had 20 g/l residual sugar. It drinks much drier than that, with a delicate, mineral-laced nose and fresh strawberries on the palate.
2016 Thierry Delaunay "La Vignette" Sauvignon Blanc
Fans of Le Grand Ballon were charmed by Thierry's Touraine labels. The Sauvignon has a grapefruit driven nose and great mineral. File under: Porch pounder.
2016 Thierry Delaunay "La Vignette" Rosé
Pale and ethereal in color, many tasters noted what a lively, light alternative this Gamay-based rosé was to the fruitier and headier rosés from Provence.
2015 Thierry Delaunay "La Vignette" Gamay
Semi "carbo" and tank aging contributed to the light fresh cherry notes of this entirely too quaffable wine. Many tasters were unaware of Gamay being grown in the Loire; it's there and it's worth checking out!
2015 Vigneau-Chevreau Vouvray "Cuvée Silex"
Serious stuff with its cacophony of fresh and bruised apples, earth and wet wool. A complex and serious drink with a real presence in both mid-palate and finish.
2015 Vigneau-Chevreau Vouvray Abbaye de Marmoutier "Clos de Rougemont"
Another serious power hitter from this biodynamic domaine. The vineyard has been in existence for over 1000 years, and the Vigneau family replanted this 1.3 hectare historic Clos in the early 1990's. It's a heavenly wine with breadth and tons of stuffing. Worth seeking out, although somewhat rare. Only 600 cases made.
2015 Christophe & Roger Moreux Sancerre "Les Bouffants"
Textbook Sancerre with citrus, and a lean, stony character. Really good.
2015 Christophe & Roger Moreux Sancerre "Les Monts Damnés"
The damned mountain does not disappoint and Moreux's 2015 is packed with citrus, tropical and orchard fruit. great depth and incredible finish. Too bad they didn't make more……
2015 Eric Santier/Domaine Dozon Chinon "Clos au Saut du Loup"
An exciting new direction and ownership for this domaine. The velvety texture, depth of fruit and seamless integration of tannins were on point!
If you are in the San Fransisco are and want to check it out you can register in the Loire Valley Bureau site (link above). We will be there pouring on Tuesday, April 25th, 2017.