Taming the Terpene Beast and a Place Called Sundel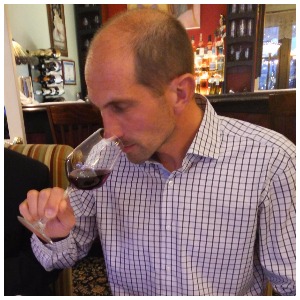 May 4, 2017
It's always brilliant having our producers here, and not an ocean away, to hear of their connections to their vines, their struggles, triumphs and the perpetual battle against mother nature (although they secretly love her). And so it was truly wonderful having the charismatic, soft-spoken Christian Beyer with us for the last few weeks. In re-visiting the wines, two things became remarkably clear: Christian is a master of Gewürztraminer and the lieu-dit called Sundel is a very special place indeed.
Gewürztraminer is a tricky grape and let's face it, we have all had versions that taste like our mouths have been sprayed by the perfume ladies in a duty free shop. Aggressive and unsettling to say the least. Those terpenoid esters need to be tamed! The Gewürztraminers of Domaine Emile Beyer are gorgeously fruity, with all the lychee and peach skin you might want, and just a hint of sweet meadow flowers that forms a subtle core. Christian explained that one must be careful of the terroir in which Gewütrztraminer vines are planted, and that their yields must be carefully monitored. It is apparent that he has a very particular set of skills, à la Liam Neeson, when it comes to this challenging cultivar. Especially charming was the 2013 Pfersigberg, a voluptuous yet precise wine that was universally admired amongst the tasters.
As for the lieu-dit Sundel, this small plot within the Grand Cru Pfersigberg is clearly a labor of love. Christian was able to identify a section of the Cru that had a cooler micro-climate and high limestone content, perfect for Pinot Noir. There are a mere 1509 hectares of Pinot Noir grown in Alsace, and it is the only allowed red cultivar of the region. In 2002 Christian obtained some vine cuttings from the 1er Cru Epenots in Pommard and planted them there, This little patch measures only 0.5 hectares. Again, the yields are extremely low here (28hl/ha) and we got the feeling Christian babies this plot a bit. From pruning to harvest to bottling, everything is done painstakingly by hand. Don't forget too, the Beyers farm biodynamically, adding an extra layer of work to the mix. Christian insists upon the fine-grained cooperage of Damy out of Meursault for aging the wine from the Sundel plot; 20% new barrels and the remainder in second and third passage barrels.
The 2015 Sundel we tasted was a velvety beauty, redolent of cherries and imbued with a fine fresh earthy quality. Price-wise it comes in at less than any Bourgogne Rouge, with 3 times the complexity. If you haven't already, we urge you to try this wine.