Beaujolais Continues to Have Its Moment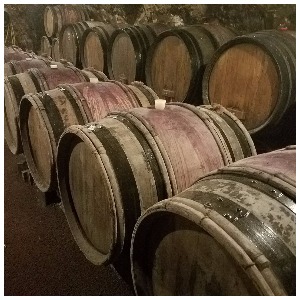 July 28, 2017
Beloved by hipsters, all the rage with sommeliers, and a favorite of old school wine drinkers, Beaujolais has an allure that crosses disparate demographics
Given this, we thought it would be the perfect time to talk about the splendid wines of Domaines Les Fines Graves, an estate that came into prominence a few decades ago, when Jacky Janodet took over his Father's domaine in 1974, at the young age of 23. He was a gifted winemaker with a meticulous character. Sadly, Jacky passed away from cancer in 2013, but his wife Évelyne and son Jérôme now carry out his legacy. There is nothing very fancy here; you can see from the photos that this cellar is very old, as are the barrels used for elevage. This is traditional Beaujolais winemaking in top form, pure and unadulterated.
Évelyne and Jêrome produce a very fine Beaujolais-Villages that offers pure raspberry aromas, exceptional depth, and texture, coming from 30 yr-old vines planted on the lower slope just beneath the famed Moulin-a-Vent appellation. The domaine also produces a powerful Chénas, a rare Cru Beaujolais that can rival many a Bourgogne village. However, it is the Moulin-à-Vent that reigns supreme at this estate. Deep, brooding, and age-worthy, it is a serious wine that belies traditional notions of fruity, simple Beaujolais. In superior years, they also make a separate bottling of Moulin-à-Vent labeled "Vieilles VIgnes" from the very oldest vines vines. The 2015 is available now. It is a concentrated and structured wine; you might want to sit on it for a few years. In fact, these wines are finally enjoying some critical success. You can read here what Josh Raynolds, of "Vinous" had to say about some of the 2014's and 2015's.
Lastly, the Janodets also make a sumptuous Saint-Amour labeled under Domaine des Vieilles Caves. A mere 250 cases a year are made from this plot of 75 to 100 year-old vines formerly owned by Jérôme's grandfather. This is a real showstopper, with a velvet texture and pleasing fruit.
Although roasted chicken or the annual Thanksgiving turkey is often made mention in the press as a great food pairing for Beaujolais, the cuisine there is definitively Lyonnaise—rich and meat-centric, with an emphasis on fatty sausages like Rosette de Lyon, as well as steak, offal, bone marrow, cream, mustard, and potatoes. Drive an hour south to Lyon and you will find yourself parked at a paper covered table in a homey bouchon, with an assortment of animal parts in front of you and pichets full of Beaujolais.